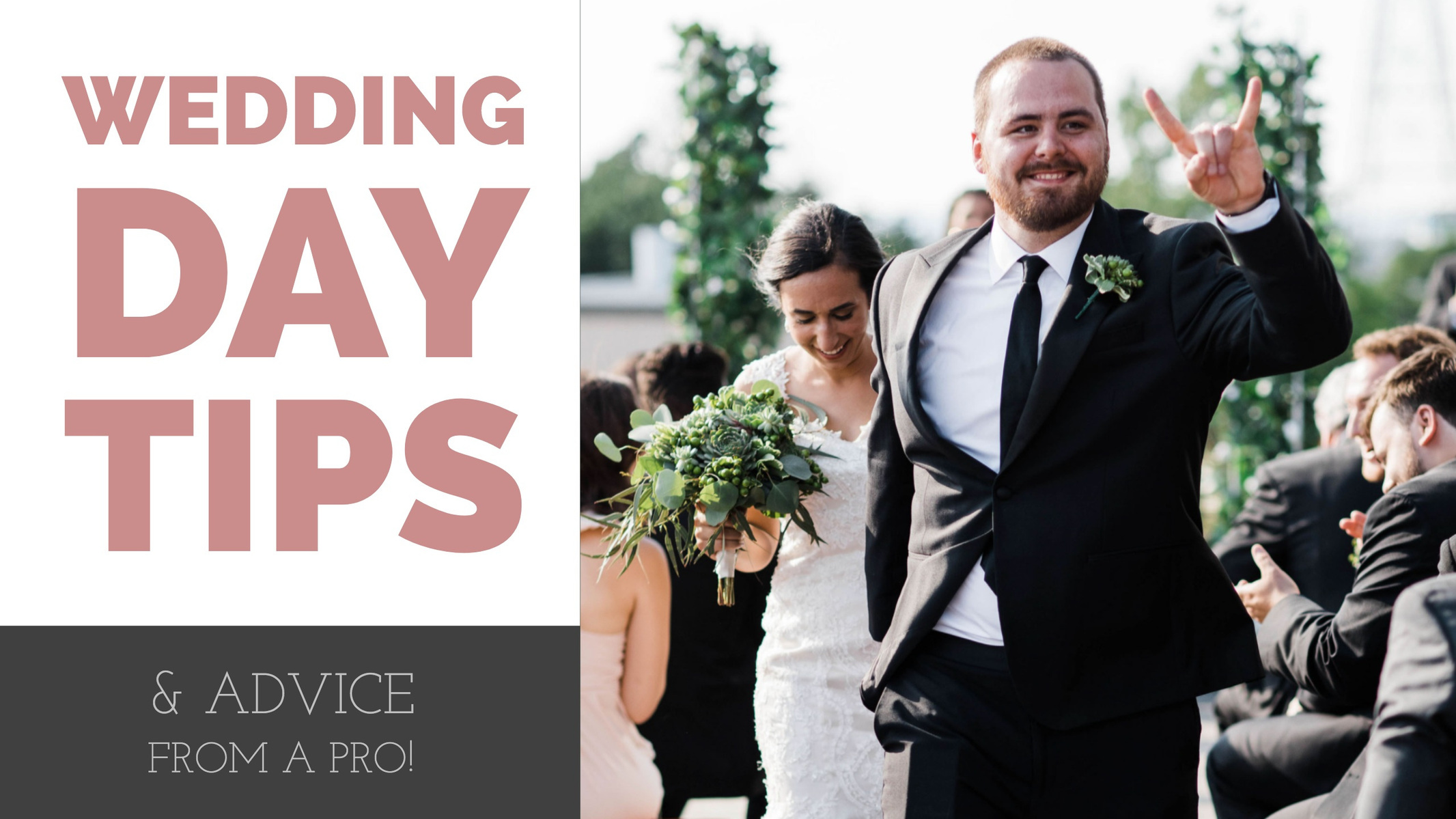 1. Give someone else your phone on the day
Hand your phone over to someone, like your MOH, that way they can handle all the calls, texts and emails. Please believe me… at my own wedding, I had friends texting me at the beginning of the day when I was getting ready, and it was stressful, so I handed my phone over to one of my best friends- problem solved!
2. Eat something and stay hydrated
Bottled water and protein bars are a lifesaver.

3. Hire professionals
When things go wrong (because, let's be honest, one thing always goes wrong) these seasoned professionals will know what to do to fix almost any situation… quickly and swiftly AND if they are REALLY good at their job, you won't even notice anything went wrong!
4. A Day of wedding coordinator is SO helpful
This goes along with my last statement! They are usually a lifesaver in one way or another.
5. Pack an emergency kit
Dress tape, sewing kit, tiny scissors, nail polish remover, tide pen, bandaids, etc. *If I'm your wedding photographer, don't worry because I ALWAYS bring this emergency kit with me to all my weddings.
6. If you are drinking alcohol on the wedding day, don't start too early and pace yourself!
This should be a given, but again, I've seen it all.
7. Allow extra time in your schedule
Seriously, you will thank me and your photographer will LOVE you (xoxo).
8. If you have printed save the dates and wedding invites, send these to your photographer prior to the wedding
This way, your photographer will get plenty of photos of them!
9. Back up shoes
Especially if you are wearing heels. And don't forget to break in your key pair of shoes if you plan on wearing them all day.
10. CHILL/RELAX
Enjoy the day! I can't say this enough… try not to stress. Hang out with your crew or be alone getting ready, have a spa morning, drink some hot tea, play awesome music… whatever keeps you calm.
11. Umbrellas!
If you think it might rain… bring clear umbrellas for the wedding party. They not only protect you from the rain, but they look cute in photos!
12. Warning, long one here: Trust your photographer and please don't make a 3 page list of basic wedding day things they need to photograph
If they are a professional and you did your homework, and they shoot weddings for a living… they know). We DO want you to tell us when there are very important things you want photographed (things we wouldn't know about unless you told us) … FOR EXAMPLE: Your great grandmother will be there and you want to make sure we know that or you want to make sure your gift to your significant other is photographed (please mention these things).
13. Wooden hanger!
For your dress or suit… it just looks better in photos than a regular old plastic one.
14. If you have a photographer there for 10-12 hours, you really should provide lunch and dinner
A fed and full photographer is a happy one!
15. First look or down the aisle moment?
If you are doing a traditional down the aisle moment, please allow extra time in your schedule for photos after the ceremony (not just an hour, I usually need at least an hour 1/2) AND if you are doing a first look prior to the wedding ceremony, plan on getting almost all of your photos done beforehand. Plan this out with your photographer.
16. Go through the wedding day timeline with your photographer and see if anything needs to be altered
17. Alone time with your significant other
THIS. It's important. Sometimes we can get caught up in everything and the day just flies by… so take some time to spend together alone. A good time to do this might be right after the ceremony, maybe even for like 10 minutes and then go finish your photos.
18. The best advice I can give: Make your wedding reflect you and your partner!
And if someone says, "Well that isn't what we did at my wedding, you can't do it this way, or you HAVE to do this because it's tradition", NOPE! Follow tradition or don't. Do what makes you and your partner happy.
A few professionals that can help you have an awesome wedding day:
Wedding Planner & Day of Coordinator - Weekend Wedding Warrior
Professional Makeup - Kana Brown at The Beauty Room // Rick Bancroft
Professional Hair - Brooke Meadows at Crescent HairCraft
Florals - Rose and Honey Floral // Mahonia
Custom Wedding Dress - Elizabeth Crum Bridal
Ok, so that's it from me for now! I hope this helps you have a great wedding day! If you feel like I missed something, or I should add to it, give me a shout: meaganjordan@gmail.com.